Healthcare companies are facing many of the same marketing challenges as the retail, banking, technology, and consumer package goods sectors.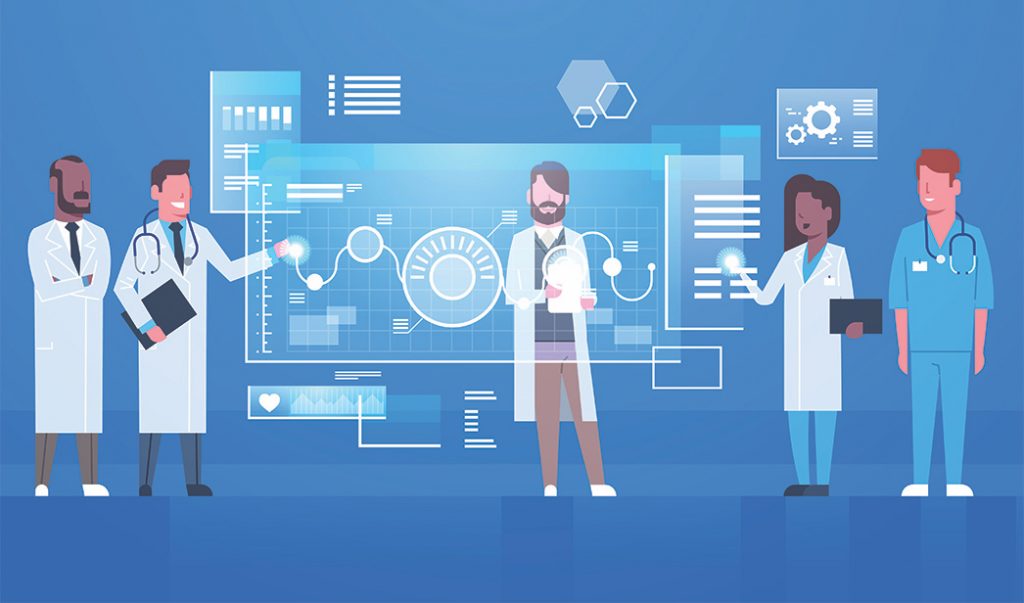 In the age of the consumer, the power dynamic has flipped. Today's consumer has more information, more options, and more convenient alternatives to meet their needs than ever before―and they have it instantly, 24/7, on the devices of their choice. Empowered consumers are flaunting this newfound influence as they choose, scrutinize, and change their paths to purchase and loyalty. They want preferred brands to want them, adapt to their demands, and play by their rules. And they are quick to make comparisons and judgments on how the companies they do business with stack up against each other.
The reset of customer expectations transcends industry sectors. Healthcare organizations―payer, provider, and pharma―must keep pace with their customers. They can no longer rely on market share dominance, legacy brand preference, or regulatory protections. Success in a transformative landscape requires marketing leaders to re-examine strategic imperatives, anticipate what's coming next, and deftly navigate a fast-moving set of obstacles and opportunitiesto capture customer mindshare.
In 2019, five themes will guide healthcare marketing:
1. Data Personalization
Delivering actionable, individual insights backed by unique data assets and sophisticated predictive analytics are now marketing table stakes as healthcare companies seek a 360-degree view of the customer and raise the bar for their marketing partners' data science competencies.
Key stat: 90% of retailers say personalization is a top priority, but only 15% of these companies believe they are actually doing a good job at it.
2. Digital Transformation
It's not digital strategy―it's strategy for the digital consumer. Expectations are now formed by your customer's favorite digital experience regardless of industry boundaries, and it needs to be delivered throughout their digital healthcare journeys. Think: right time, right place, right message.
Key stat: 60% of marketers struggle to personalize content in real time, yet 77% believe real-time personalization is crucial.
3. Customer Experience
Overused and underdelivered, often relabeled "consumerism, empowerment, humanization, and engagement," CX will go beyond journey mapping as healthcare companies commit to budgeted, cross-functional efforts across customer life cycle touchpoints.
Key stat: Health insurers' customer experience is among the lowest of all industries, ranking 15th of 19 U.S. industries compared, with a score that has not changed since 2016.
4. Health Inertia
Many people with chronic conditions fail to take the steps they need to live healthier lives. Improving clinical outcomes for these types of patients/customers will mean motivating and engaging them to face personal health challenges and helping them navigate the intricacies of a very complex financial and clinical ecosystem.
Key stat: 56% of people surveyed with at least one chronic condition believe they are healthy enough to not have to change their lifestyle.
5. Modern Marketing
The three-way convergence of brand, direct, and content is redefining healthcare marketing around an ability to deliver relevant custom conversations crafted around a value exchange to attract, activate, and retain profitable customers. Content directly impacts brand, so make sure all content has direct brand impact.
Key stat: 68% of global senior business decision makers report struggling to bring their data, creative, and technology together.
Next Year
What are the big takeaways going into 2019?
• For some of these themes, such as customer experience and digital transformation, the clock is ticking. Prolonged decision-making or delayed investments are no longer viable pathways. Even "fast-followers" risk losing significant ground as competitors advance along the direct-to-consumer digital marketing maturity curve.
• From a consumer perspective, a couple of themes are inextricably linked, particularly data personalization and health inertia. Leveraging data to better understand how people view their health in order to create personal, emotion-based content that influences health decision-making and drives action goes a long way toward achieving meaningful engagement and measurable results.
• Lastly, as you reflect on modern marketing, think about it as a North Star for a future where data, strategy, and creativity intersect. Where ideas come to life, brand narrative scales, customer relationships get personal, and lifetime value is generated through inspired customer content and communication channel mix. Modern marketing, online or offline, is powerless without an ability to move an audience to action.
It is abundantly clear that the fast pace of change across healthcare markets―driven by consolidation and horizontal integration, combined with influence being wielded by always-on consumers―is dictating 2019's marketing agenda. However, in the midst of this conundrum, let's not forget healthcare companies have a series of big, audacious challenges to confront: an opioid crisis, social determinants of health (SDoH), health literacy, uninsured and uncompensated care, pre-existing conditions, genomics, and precision medicine.
It's up to savvy healthcare marketers to force a robust C-suite debate around long-standing institutional biases to help refine in-market priorities, break down operating silos, and sequence go-to-market tactical plans that are metrics-driven. Trusted healthcare brands need to reach and connect with every customer wherever they are in their healthcare journey. There's nothing more fundamental, more personal, or more valuable than an individual's health.
That's simply (or not so simply) the business of healthcare marketing.
This article by Linsay Resnick originally appeared on CMO.com.